Wondering what to do with all that zucchini? Here's a delicious way to incorporate it into a healthy baked good.  This loaf is moist and rich-tasting; sweet, but not too sweet – and equally fitting as a post-workout snack or a tasty dessert. A generous amount of zucchini subs in for some of the fat, making this loaf lower in calories than typical quick breads.  If you have too much zucchini on your hands, grate it and freeze to use later (freeze in 2-cup portions).
Ingredients
1.5 cups whole-wheat flour
½ cup cocoa
2 tsp. baking powder
1/2 tsp. salt
1/2 cup chocolate chips
2 cups shredded zucchini*
1/3 cup milk (I used 1%)
2 large eggs
1/2 white sugar
1/4 cup canola oil
1 tsp. vanilla
* no need to peel – it doesn't affect flavour, takes time, and you're getting rid of precious nutrients that are concentrated beneath the skin
Preparation
Preheat oven to 350°F. Coat a 9-by-5-inch loaf pan with oil or butter, or line with parchment paper.
In a large bowl, combine flour, cocoa, baking powder, salt, and chocolate chips.
In a medium bowl, whisk the eggs, then add the milk, zucchini, sugar, oil, and vanilla. Pour over the flour mixture, and stir until just combined.
Scrape the batter to the prepared pan.
Bake for about 45-55 minutes, or until a toothpick inserted in the center comes out clean. Cool in the pan for 15 minutes, then turn out onto a wire rack.
Nutrition Notes
This recipe maximizes the healthful ingredients (zucchini), and decreases the amount of oil and sugar compared to most zucchini loafs.  Substituting 100% whole wheat flour for white flour also makes this bread more nutritious by adding more fiber, potassium, protein, calcium, iron, and magnesium.
ZUCCHINI is a summer squash. Because it is mostly water, it is naturally low in calories. Its mild flavour makes it pretty versatile: you can substitute some zucchini for fat in baked goods, and it works well in many other dishes because it takes on the flavours of what you cook it with. Zucchini is terrific grilled simply, or add herbs and lemon.
COCOA contains compounds called flavonols that have been found to  lower blood pressure and improve endothelial function, neutralize inflammation, increases healthy HDL's, dilate blood vessels, help prevent atherosclerosis, and increase nitric oxide production (which has heart and potential endurance exercise benefits). You can read more about the benefits of cocoa here.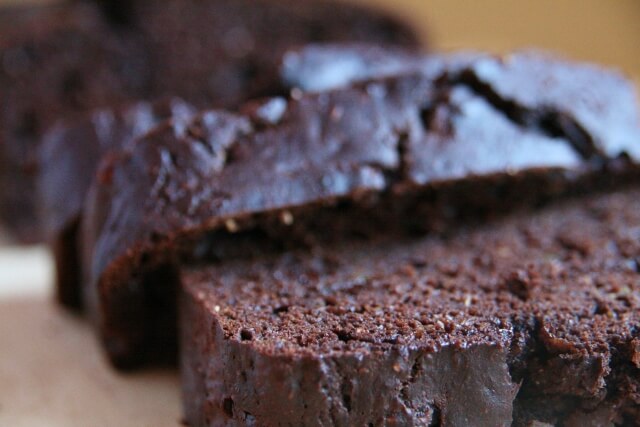 Nutrition Per Slice
(based on 12 slices per loaf)
185 calories
4.5 g protein
28 g carbohydrate
8 g fat
31 mg cholesterol
4 g fiber
195 mg sodium
195 mg potassium
More Quick Bread Recipes



More recipes with CHOCOLATE
Summary
Recipe Name
Double Chocolate Zucchini Bread
Published On
Preparation Time
Cook Time
Total Time
Average Rating





Based on 5 Review(s)
Share This: