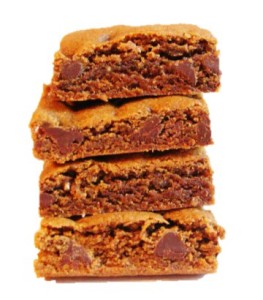 These spicy bars are soft, chewy, and amazingly delicious! The ginger delivers a good zing, and the molasses keeps them dense and fudgy. You can whip these up pretty quickly, which will make your entire house smell pretty wonderful.  These bars are great workout fuel, but certainly tasty enough for a lunchbox treat or as a sweet with coffee or tea.
You can also make these as cookies by shaping the dough into 1 1/2-inch balls.  Place on cookie sheet at about 2 inches apart and flatten slightly with a fork.  Bake in 350 deg oven for 7 minutes (don't overbake!).
You can substitute a different nut or seed butter for the peanut butter (I've tried tahini – sesame seed butter – and almond butter would work well).
Ingredients
1.5 cups whole wheat flour
1 tsp. baking soda
2 tsp. ground cinnamon
2 tsp. ground ginger
1/4 tsp salt
3/4 cup brown sugar
1/3 cup "natural" peanut butter
3 tbsp. softened butter or margarine
1 egg
¼ cup molasses
1 tsp. vanilla
½ cup chocolate chips
Directions
Preheat oven to 350°. Lightly grease bottom of an 9 x 11-inch baking pan, or consider using parchment paper for easy removal from the pan. You'll find some tips on how to do this here and a video here). (If you don't have a 9 x 11-inch pan, you can use a 9 x 13-inch pan, just don't spread dough all the way to the edges).
In a medium bowl, stir together flour, baking soda, cinnamon, ginger, and salt.
In a large bowl, mix together peanut butter and butter with a large wooden mixing spoon. Add egg, molasses, vanilla, and brown sugar. Add chocolate chips.
Stir flour mixture into peanut butter mixture (dough might be stiff).
Spread into a prepared pan (you can wet your hands with water, or grease with a little butter to make this easier).
Bake for 15-20 minutes. (Time will depend on the size and type of pan you used –  test with a toothpick or sharp knife –  insert in the center and it should come out clean  – unless it hits a chocolate chip!).
Cool on a wire rack. Cut into 15 bars.
Yield: 15 bars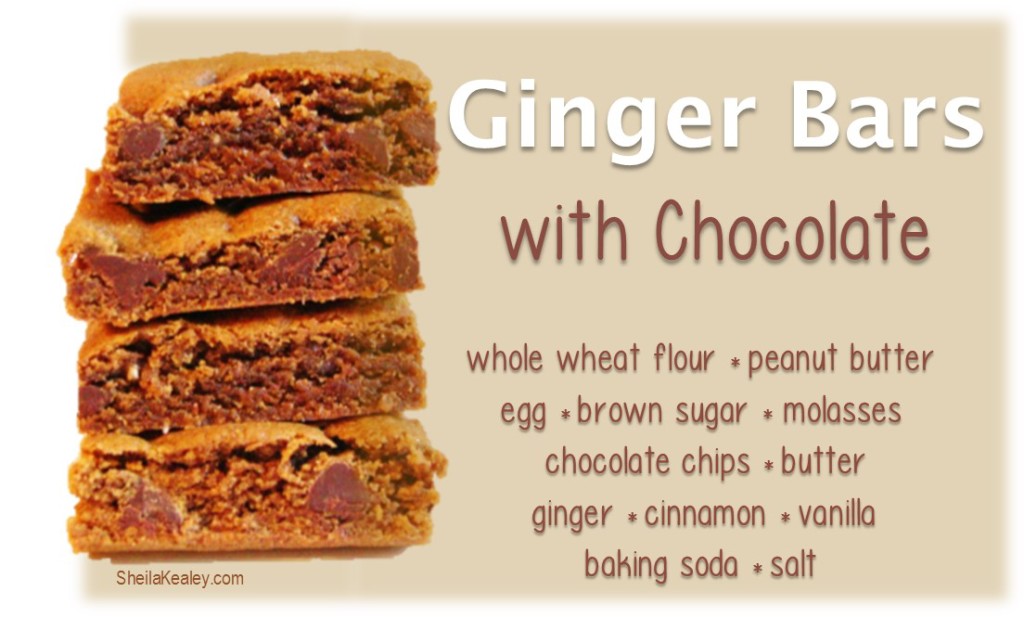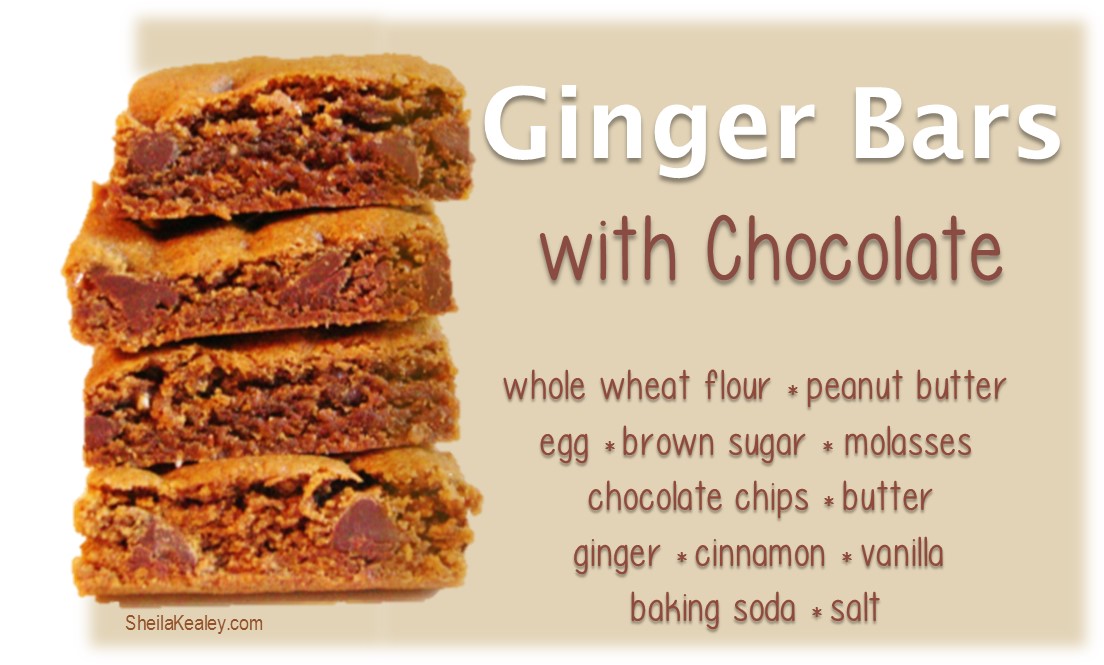 Nutrition Notes
For eating outside of workouts, this bar recipe is likely healthier than most cookies or bars.   Whole grains (whole wheat flour) replace the more typical refined white flour (and you probably don't need to worry about the gluten in the flour). I also used this baking strategy, substituting peanut butter for most of the butter. Peanut butter provides heart-healthy fats instead of saturated fat, as well as protein, fiber, and minerals that many people don't get enough of in their diets.
Nutrition Per Bar
185 calories
3.5 g protein
7 g fat
18.6 mg cholesterol
25 g carbohydrate
2.2 g fiber
175 mg sodium
195 mg potassium
Iron: 7 % Daily Value
Calcium: 3 % Daily Value
 More Recipes to Fuel Your Workouts
You'll find more information about Sports Nutrition Strategies here
You'll find more healthy recipes here
Summary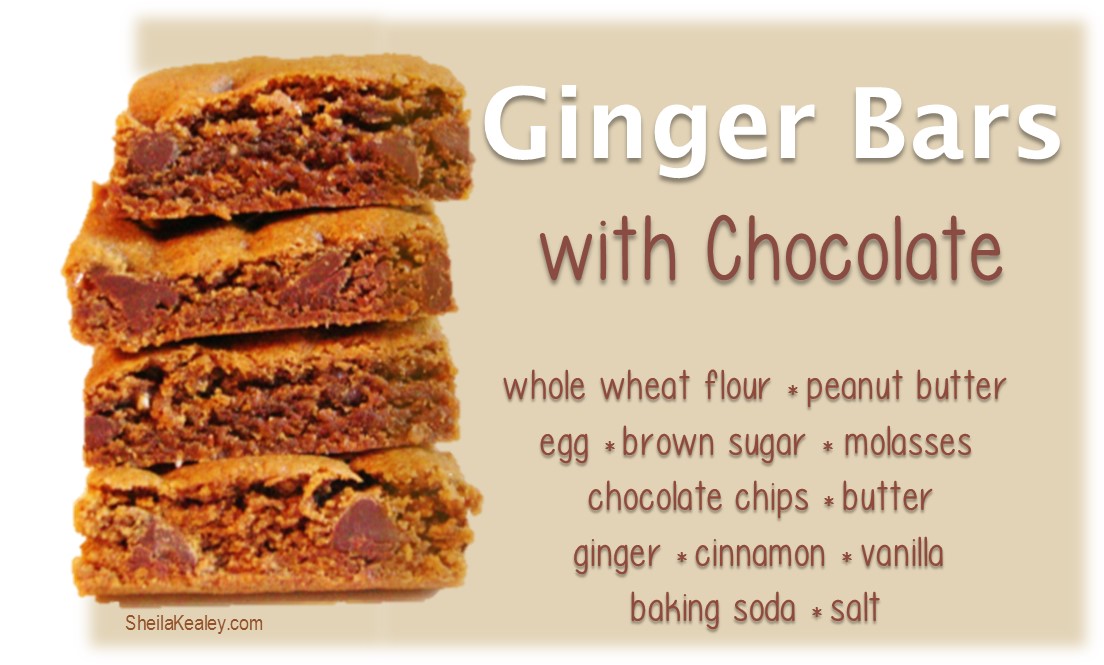 Recipe Name
Ginger Bars with Chocolate
Published On
Preparation Time
Cook Time
Total Time
Average Rating





Based on 6 Review(s)
Share This: