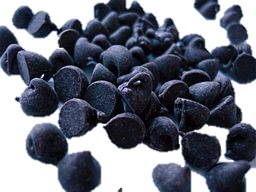 Although I'm not a big fan of cake frostings, I like glazes that can dress up a plain looking cake and add intense flavours.  Glazes are perfect for bundt cakes (or any other cake that doesn't  need a heavy frosting – in my case, most cakes!).  Most chocolate glazes have plenty of icing sugar, which can make them cloyingly sweet without a lot of chocolate flavour.  This glaze is mostly chocolate, so it is intense and rich tasting, and you don't need much.   A bonus is that it gives you a surface to decorate (I like to add nuts).
Ingredients
1/2 cup semi-sweet chocolate chips (good quality)
2 tbsp. milk (I used nonfat – but any type will do)
Directions
In a small measuring cup, combine the chocolate chips and milk.
Microwave on HIGH for about 20-30 seconds (chips should just begin to melt).
Remove from microwave and stir well to combine.  You may need to add a little more milk for a thinner consistency (but be careful – it's easy to add too much!).
Working while the glaze is still warm, use a small spoon to drizzle the glaze over the cake (the cake should be completely cooled); allow the glaze to run over and down the sides.  If you are adding nuts, do this when the glaze is still warm so they will stick (the glaze will set as it cools).
Makes about 1/2 Cup (8 Tablespoons) of glaze

Nutrition per 1/2 Tablespoon of Glaze



25 calories
.3 g protein
1.5 g fat (1 g sat)
0 mg cholesterol
3.5 g carbohydrate
.3 g fiber
1.5 mg sodium
22 mg potassium
______
Chocolate Chip photo by By Editor at Large [CC BY-SA 2.5], via Wikimedia Commons
More SWEET Recipes . . .



Cakes

Cookies, Bars and Workout Snacks
Pies and Tarts
Quick Breads

Share This: