This is one of my favourite cakes. It features lemons and blueberries, a terrific combination.  Incredibly rich-tasting and moist, this is much healthier than traditional lemon cakes. Greek yogurt replaces butter and sour cream – slashing calories and fat, while adding protein and calcium.  The glaze is optional, but does give the cake a tangy-lemony boost.
Ingredients
1 cup whole-wheat flour
2 cups all-purpose flour
1/2 teaspoon baking soda
1 1/2 teaspoons baking powder
1/4 teaspoon salt
1 1/2 cups granulated sugar
1/4 cup butter or trans-free margarine
2 tablespoon grated lemon zest (about 2 lemons: zest the lemons, then set aside to juice them for the glaze)
4 large eggs
1/2 teaspoon vanilla extract
1 (16-ounce) container plain Greek yogurt (I used 0% fat)
2 cups blueberries, fresh or frozen (unthawed)
Glaze:
2/3 cup powdered sugar
2 tablespoons fresh lemon juice
1 tsp. lemon zest (optional)
Directions
Preheat oven to 350°.  Lightly grease 12-cup Bundt pan with butter or margarine.
In a medium-sized bowl, combine flours, baking soda, baking powder, and salt, stirring with a whisk or fork to combine.
In a large bowl, combine sugar, butter, lemon zest, and eggs. Beat with a mixer (or vigorously with a hand whisk or good spoon) until well blended.  Mix in vanilla and yogurt.
Add flour mixture, and beat with a mixer or stir well until combined. Gently fold in blueberries.
Spoon batter into prepared pan. Bake for about 1 hour, or until a wooden pick inserted in center comes out clean. Cool in pan on a wire rack for about 15 minutes; remove from pan, and cool completely on wire rack.
GLAZE:  Whisk together powdered sugar and lemon juice in small bowl or measuring cup. Drizzle over cooled cake, and top with lemon zest.
Makes 16 Slices
Cooking Tips and Notes
Zesting lemons can be quick and easy with the right tools: check out these tips.
Nutrition Notes
Greek yogurt is high in protein and a good source of calcium. I used 0%, but higher fat brands will work too (but the cake is already rich tasting – a higher fat brand will increase the calorie count).
Blueberries are  nutritional powerhouses: rich in Vitamin C, fiber, antioxidants, and protective phytochemicals.
Lemon zest contains a compound called d-limonene, which has been studied for its ability detoxify potential cancer-causing compounds.
You can lighten up the cake further by using egg whites in place of some of the eggs (about 1/4 cup egg whites for each egg you replace)
Nutrition Per Slice
245 calories
8 g protein
4 g fat (2 g sat)
57 mg cholesterol
45 g carbohydrate
2 g fiber
25 g sugars
215 mg sodium
85 mg potassium
Iron: 7% Daily Value
Calcium: 16% Daily Value
More SWEET Recipes . . .



Cakes
Cookies, Bars and Workout Snacks
Pies and Tarts
Quick Breads

Summary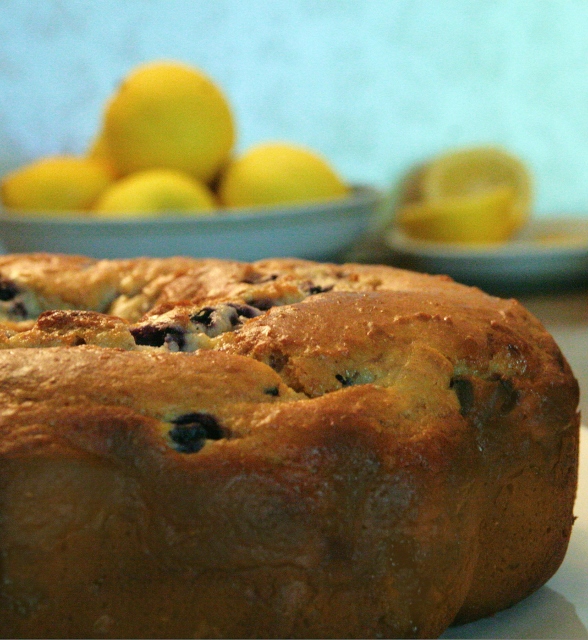 Recipe Name
Published On
Preparation Time
Cook Time
Total Time
Average Rating





Based on 5 Review(s)
Share This: