I love fruit tarts, and have been collecting recipes for various tarts for as long as I can remember.  The only part that I was ever satisfied with was the fruit topping . . . but how can you go wrong with those vibrant colours and fabulous flavours?
I set out to make the perfect tart. Of course,  perfect means I wanted the tart to taste great, be relatively easy to make,  and also nutritious.
I think I"ve succeeded! This crust features two nutrition all-stars  – walnuts and oats; the filling is protein-rich Greek yogurt; and the topping, nature's bounty of colourful fruits full of health-promoting compounds. Just one piece has a whopping 1,715 mg of potassium, a mineral many people don't get enough of in their diet.
Healthy enough for breakfast, flavourful enough for dessert!
Ingredients
Walnut Crust
1 1/3 cup oats
1 cup walnuts
2 tbsp. sugar
1/8 tsp. salt
1 egg
Yogurt Filling
1 carton (500 g/about 2 cups) Greek Yogurt (I used nonfat vanilla)
3 tbsp. cold water
1 package unflavored gelatin (2.5 tsp.)
Fresh Fruit
A variety (about 4 cups) of bite-sized colourful fresh fruit – anything goes! I typically include some sort of berry. Cut larger fruit into small pieces as necessary.
Directions
Walnut Crust
Preheat oven to 350 deg F. Place the oats, walnuts, sugar, and salt, in food processor and process. Add the egg and process until well mixed.
Press mixture into a 9 or 10 inch tart dish lightly greased with butter (consider lining bottom with circle of parchment paper – sometimes the crust sticks without it). Use your fingers to spread the dough and press it evenly all over the inside of the tart pan (it helps if you wet your fingers with water).  Poke the crust in a few places with a fork.
Bake for 10-15 minutes (until lightly browned) and cool on a wire rack.
Yogurt Filling and Fruit Topping



Put cold water in a 2-cup microwavable measuring cup. Sprinkle with gelatin; stir and let stand for 2 minutes (gelatin will expand and solidify).
Microwave on High for 30 seconds (gelatin will become liquid).
Add gelatin mixture to yogurt, stir or whisk well, pour into baked crust, and let set in refrigerator for about 1 hour.
This the the fun part: top with fresh fruit  – use patterns of colours, or just throw it all on – you can't go wrong!
Cooking Tips
Don't have a tart pan? Neither did I (until recently – I"m pretty happy with the purchase, and delighted with the fluted edges and removable bottom!)  You can also make this in a glass pie plate.
Yogurt filling.  If you don't want to use gelatin, you can omit it. Everything looks great and works fine until you cut the crust (the yogurt spills out, so instead of pretty slices you have mounds of yogurt, crust, and fruit). Not a problem if you don't mind the appearance! (Let me know if you come up with another thickening/gelling agent that works).
Fruit topping. You can be creative with the fruit patterns – and it's an opportunity to get others involved (kids love to do this, so do most adults). Here's one I just made for a potluck with the logo of Nakkertok Nordic (where I coach cross country skiing) outlined in kiwis (I won't take credit for this design – my son made it).
Sweet dessert or healthy breakfast. If you want something more decadent, use a higher fat yogurt and add a little maple syrup or other sweetener to it before adding the gelatin (this will be higher in calories and fat, but will still be much healthier than most tarts and pies). If you want a breakfast tart, you can use plain yogurt instead of vanilla, which has much less sugar.
Nutrition Notes
Walnuts are a good source of healthy fats, and contain more of the omega-3 fat alpha-linolenic acid (ALA) than other nuts. Eating walnuts has been associated with lowering cholesterol, reducing breast cancer risk (in mice), helping control blood sugar, and reducing the risk of diabetes.
Berries are one of the most nutritious fruit: they are rich in vitamin C, fiber, folate, and potassium. They also rank higher in antioxidant power than most fruits and vegetables. Berries also contain anthocyanin, a phytochemical that helps fight oxidative cell damage that can lead to chronic diseases including cancer, diabetes, and heart disease.
Greek yogurt is exceptionally rich in protein and a good source of calcium, so if you have this tart for breakfast, it's a great way to start the day (most people don't eat enough protein in the morning).  High yogurt consumption (> 7 servings/week) is linked to lower weight (especially in people who eat more fruit), and lower risk of diabetes.
Oats are well-know for their cholesterol lowering properties, and recent research shows that they contain antioxidant compounds called avenanthramides that help decrease chronic inflammation that can lead to disease.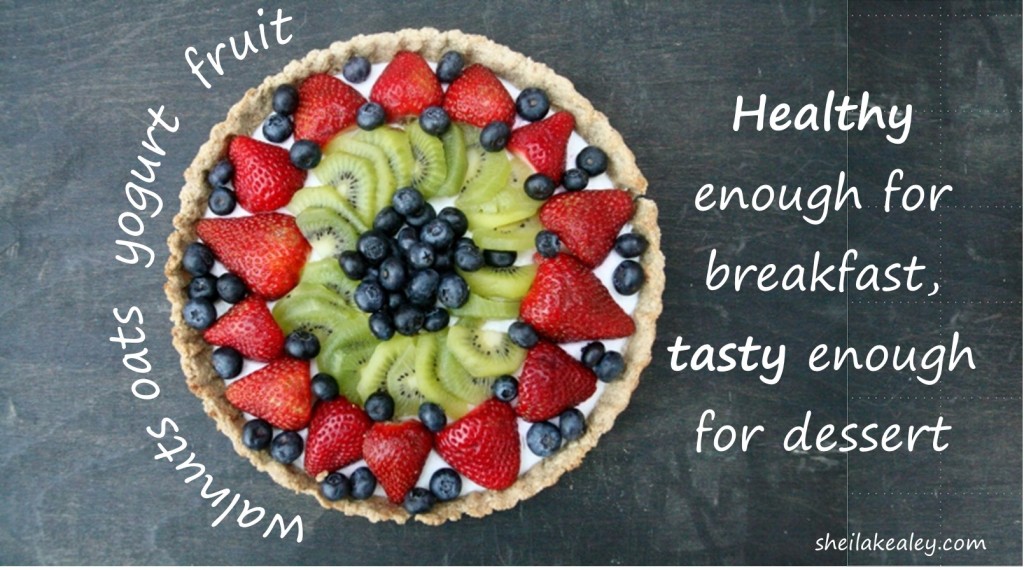 Nutrition Per Serving
1 serving = 1/8 tart
255 calories
11 g protein
49 g carbohydrate
12 g fat
23 mg cholesterol
5 g fiber
72 mg sodium
1715 mg potassium
More recipes with OATS
More recipes with WALNUTS
You'll find more healthy recipes here.
Yum

Share This: