I have a lot of kale in my very small garden. Though I didn't plan on a spot for kale this year, this persistent plant survived our cold Ottawa winter and sprouted up again in Spring. . .bigger and bolder than the year before. I am a big fan of leafy greens, but honestly much prefer the tender leaves of Swiss chard, spinach, or arugula.
What to do with all this kale?
This orzo salad is the perfect solution. It uses A LOT of kale, which is first quickly cooked and then processed with a bit of olive oil and garlic: this softens the hardy leaves and tames the assertive kale flavours. And plenty of kale means you're getting a good dose of this nutrient powerhouse with every bite.
This recipe magically transform 12 cups of kale into 1.5 cups of kale pesto/puree. All that good nutrition and it doesn't really taste like kale . . .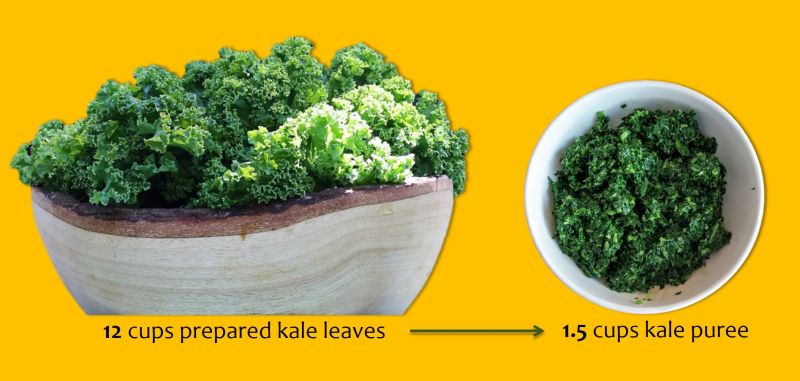 This dish is a terrific and pretty side salad that's versatile enough to bring to a summer BBQ or winter potluck; with the chickpeas providing protein it's a nourishing main course. If you have leftovers, you've got a tasty ready-made lunch on hand.
Ingredients
2 cups vegetable or chicken broth
2 cups water
1.5 cups uncooked orzo (rice-shaped pasta – you can use another small pasta shape)
2 bunches of kale, washed (should end up with roughly 12 cups of leaves, but don't worry about exact amounts!)
2 tbsp. olive oil
2 garlic cloves
2 cups cooked chickpeas (one 19-oz can chickpeas, drained)
1 15-oz can artichoke hearts (in water), drained and chopped
¾ cup crumbled light feta cheese
2 cups cherry tomatoes, halved
Freshly ground pepper
Directions
Bring water and broth to a boil.  Add orzo and cook until tender (about 6-8 minutes). Drain and set aside in a large bowl to let cool.
While you are cooking the orzo, prepare the kale. Wash, and tear kale leaves into pieces (remove tough stems but you can leave the tender ones – you will be cooking and processing). Steam kale in a large pot with a little water for about 5-7 minutes until barely tender (don't overcook). Drain well in a colander and press out as much water as you can.
Place the garlic cloves in a food processor and process until minced. Add the olive oil and kale, and puree for about 1 minute. (If you don't have a food processor, chop the kale finely and add it to the orzo along with the garlic and olive oil.)
Add the kale mixture, chickpeas, artichokes, and feta cheese to the orzo. Toss gently to combine. Garnish with cherry tomatoes.  Serve at room temperature or chilled.
Makes about 10 cups (10 side-dish servings; 6 main-dish servings).
Nutrition Notes
Kale is considered a nutrient powerhouse: rich in vitamins A , C, and K, a good source of folic acid, fiber, calcium, magnesium, carotenoids, and several other potentially disease-fighting compounds.  Kale is a member of the cruciferous family of vegetables, which are being studied for their cancer-prevention potential.
Artichokes are a good source of vitamin C, potassium, folate, and fiber (1/2 cup contains 6 g fiber and only 25 calories). They also contain the flavonoid silymarin, an antioxidant researchers are studying for it's disease-fighting properties.
Tomatoes are rich in lycopene, beta-carotene, and Vitamin C, compounds with potential disease-fighting properties.
Chickpeas are a great source of fiber and protein and B-vitamins.  They are also rich in important minerals, including iron, phosphorous, magnesium, manganese, potassium, copper, calcium, and zinc.
Garlic contains many protective compounds that are being studied for their disease-fighting effects.
Nutrition per 1-Cup Serving
265 calories
11 g protein
43 g carbohydrates
7 g fat (2 g sat)
10 mg cholesterol
8 g fiber
510 mg sodium
510 mg potassium
Vitamin A 400% DV
Vitamin C 112% DV
Calcium: 18% DV
Magnesium: 14% DV
Iron: 18% DV
More Salads & Side Dishes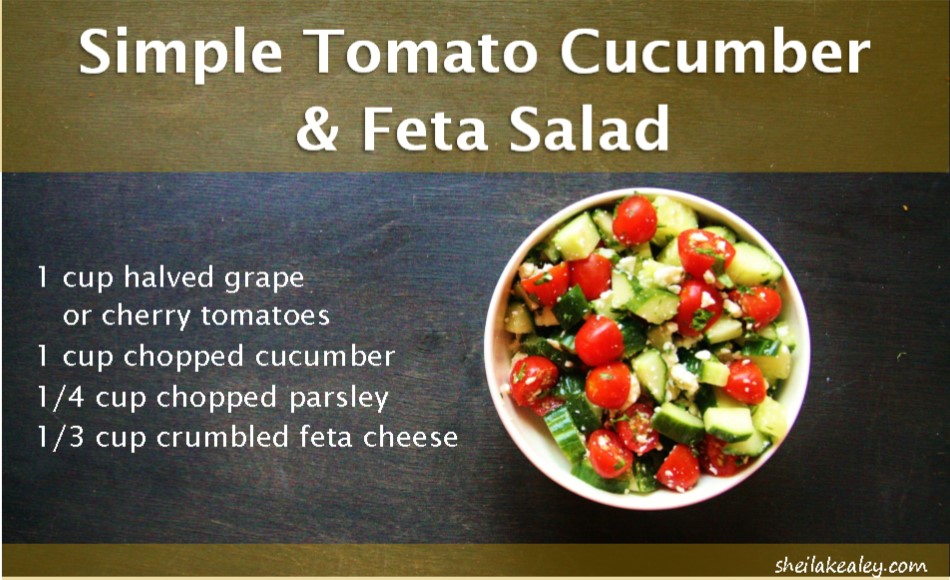 More Healthy Recipes here
Summary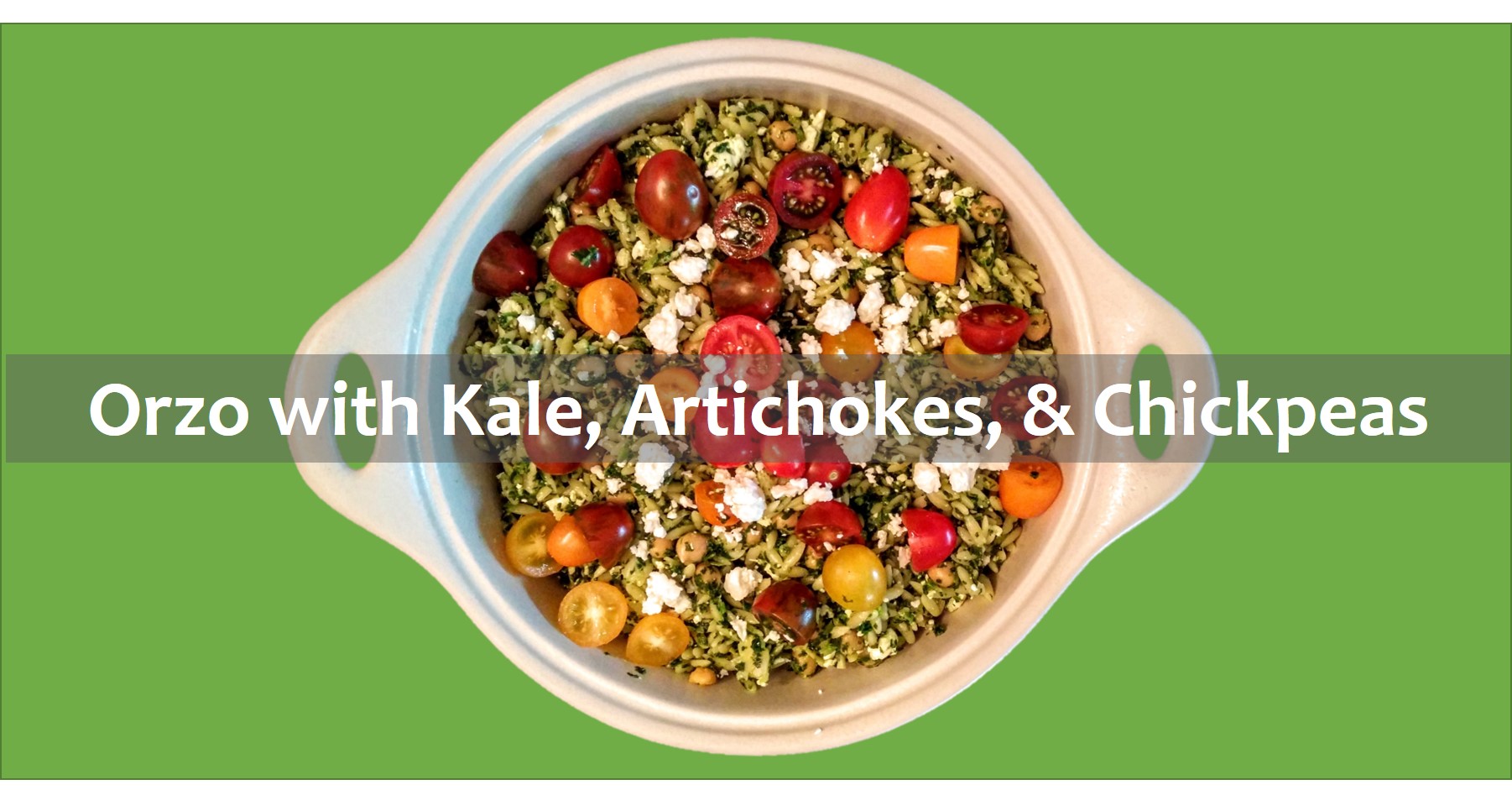 Recipe Name
Orzo with Kale, Artichokes, & Chickpeas
Published On
Preparation Time
Total Time
Average Rating





Based on 3 Review(s)
Share This: