This is a light and refreshing salad that is a tasty and eye-catching side dish for almost any meal, and a perfect potluck dish. This salad combines rice noodles, sweet peppers, fresh herbs, tomatoes, and feta cheese in a lime dressing, giving this dish Asian, Mediterranean, and Mexican influences . . . sounds odd, but the flavours blend together beautifully!
Don't be dissuaded if you are, like me, not typically a fan of cold pasta-salad style noodles. Rice noodles make an entirely different type of salad; they are lighter than pasta or wheat-based noodles, and are better at absorbing flavourful and zesty dressings like this one.
Ingredients
Honey-Lime Vinaigrette
Juice and zest of 2 limes (should yield about ¼ cup lime juice)
2 tbsp. extra-virgin olive oil
1 tbsp. honey
2 garlic cloves, peeled and minced
3/4 tsp. salt
Freshly ground pepper
Some heat: ¼ – ½ tsp. red pepper flakes, or hot sauce, or ½-1 tsp. chopped hot green chili like jalapeno (optional, to taste)
Noodles
1 small package (225 g) rice stick (flat) noodles; this should yield about 4 cups of cooked noodles
1 tbsp. extra-virgin olive oil
Mix-Ins: vegetables, herbs, & feta
2½ cups of chopped sweet peppers (green, yellow, or orange are good colours to complement the tomatoes)
2½ cups grape of halved cherry tomatoes (about 50 whole grape tomatoes)
½ cup green onions, chopped
Fresh basil – about 20 leaves, torn
½ cup parsley, stems removed
½ cup crumbled feta cheese, or more to taste
Preparation
Whisk together dressing ingredients in small jar or cup. Set aside.
Prepare vegetables and herbs.
Cook the rice noodles according to package directions. Strain noodles in a colander, and rinse thoroughly under cold water. Drain them well to remove as much excess water as possible. Put the drained noodles in a large bowl and toss with the olive oil.
Toss the lime dressing onto the noodles and stir to combine. Add vegetables, fresh herbs, and feta cheese to the noodles (if noodles are clumping and you're having a hard time distributing the vegetables, take some scissors or a knife and cut some of the noodles). Adjust the seasonings to taste, and serve.
Advance Prep: You can prepare the noodles, vegetables, and dressing in advance. Toss these together before serving.
YIELD: Makes about TWELVE CUPS of salad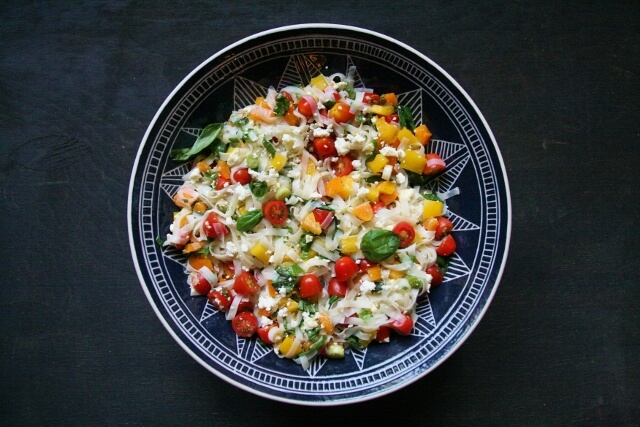 Beyond great taste, this salad contains many nutritious ingredients, including . . .
Garlic contains many protective compounds that are being studied for their disease-fighting effects.
Fresh parsley is a good source of vitamin C, and also provides beta-carotene and lutein (another carotenoid) and natural plant compounds (flavonoids and limonene) that may have disease-fighting properties.
Sweet peppers not only add colour, but plenty of nutrition. They are excellent sources of Vitamin C and carotenoids.
Onions contain sulfur compounds that are thought to help cells detoxify potential carcinogens, and are a good source of the dietary flavenoid quercetin, which is associated with reduced chronic inflammation.
Tomatoes are rich in lycopene, beta-carotene, and Vitamin C, compounds with potential disease-fighting properties.
Nutrition Per Cup of Salad
135 calories
2.3 g protein
5 g fat (1.4 g sat)
5.5 mg cholesterol
21 g carbohydrate
2 g fiber
230 mg sodium
200 mg potassium
Iron: 3 % Daily Value
Calcium: 4.2 % Daily Value
More Salad Recipes . . .
Summary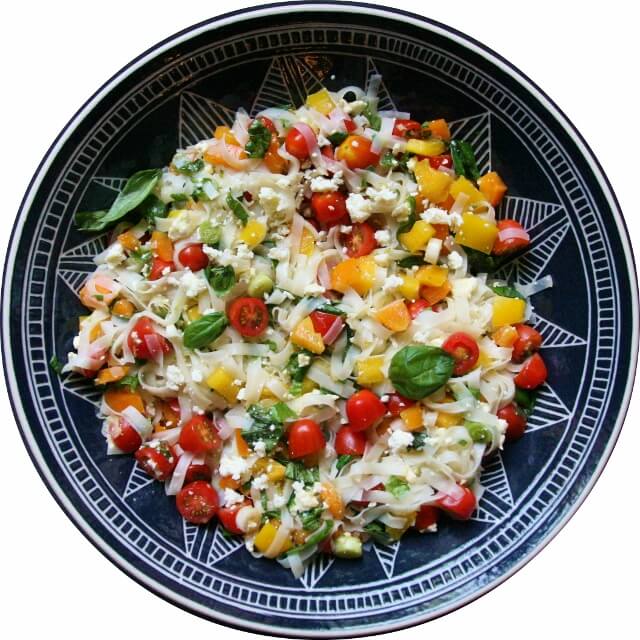 Recipe Name
Rice Noodle Salad with Lime Vinaigrette
Published On
Preparation Time
Cook Time
Total Time
Average Rating





Based on 6 Review(s)
Share This: