This is a beautiful potato salad that is a great side dish to take along to a barbecue.  Roasting brings out the flavours of the potatoes, and adding corn, tomatoes, peppers, and onions lightens up the salad while adding great taste, colour, and good nutrition.
This is a much healthier option than traditional mayonnaise-laden potato salads, which are often calorie-dense and nutrient poor: some traditional deli potato salads have almost 500 calories and more than 20 g fat per cup, with few protective nutrients.
Ingredients
To Roast 
3 lbs of baby potatoes or fingerling potatoes, cut in half or quarters depending on size (about 8 cups – you can substitute regular potatoes, chopped)
1.5 cups corn (off cob, thawed from frozen, or canned)
1 large bell pepper, chopped
3 garlic cloves, peeled and chopped
1 medium red onion, vertically sliced (about 1.5 cups)
1 tbsp. olive oil
Dressing
2 tbsp. olive oil
2 tbsp. whole-grain Dijon mustard
3 tbsp. cider vinegar
1/2 tsp. hot sauce (e.g., Tabasco)
1/4 tsp. salt
1 tsp. maple syrup (or 1/2 tsp. sugar if you don't have maple syrup on hand)
Mix In
2 cups cherry tomatoes, halved
1/2 cup chopped fresh herbs (I used flat-leaf parsley)
Directions
Preheat oven to 425 degrees.
Place potatoes, corn, bell pepper, garlic, and red onion large pan and drizzle with olive oil, tossing to coat. Bake for 30 minutes, or until potatoes are tender, stirring periodically.
Meanwhile, mix dressing ingredients in measuring cup or jar.
Transfer roasted vegetables to a large bowl.
Pour dressing over roasted vegetables, stirring to coat.
Add cherry tomatoes and fresh herbs, and mix gently to combine.
Variations
Roast other seasonal vegetables along with potatoes
Use half sweet potatoes
Like most salads, you don't really have the measure vegetable quantities, and feel free to vary the amounts
Nutrition Notes
Sweet peppers not only add colour, but plenty of nutrition. Red peppers are especially rich in Vitamin C, supplying twice as much Vitamin C as one medium orange.
Onions contain sulfur compounds that are thought to help cells detoxify potential carcinogens, and are a good source of the dietary flavenoid quercetin, which is associated with reduced chronic inflammation.
Corn is a good source of fiber, B vitamins, vitamin C, and potassium.
Tomatoes are rich in lycopene, beta-carotene, and Vitamin C, compounds with potential disease-fighting properties.
Yield: Makes about 12 Cups
Nutrition Per Cup of Potato Salad
115 calories
3 g protein
1.6 g fat
0 mg cholesterol
23 g carbohydrate
2.6 g fiber
120 mg sodium
475 mg potassium
Iron: 5 % Daily Value
Calcium: 1.6 % Daily Value
More healthy summer dishes:
Summary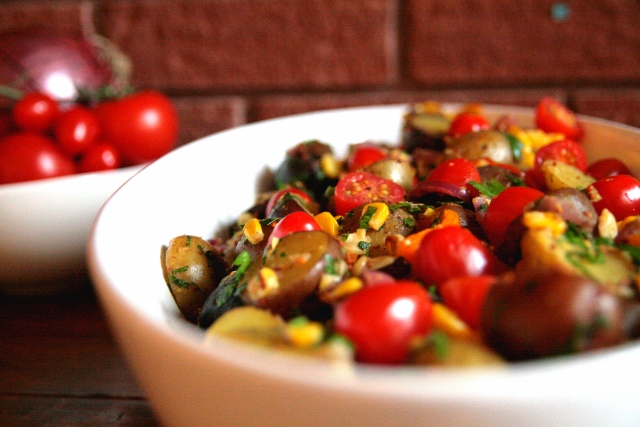 Recipe Name
Roasted Potato Salad with Vegetables
Published On
Preparation Time
Cook Time
Total Time
Average Rating





Based on 1 Review(s)
Share This: