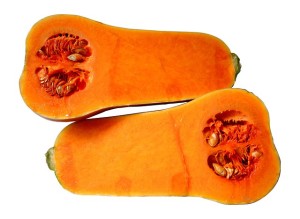 Sweet butternut squash, aromatic onions and garlic, white beans, and dark leafy greens deliver terrific flavours and great nutrition to this nourishing soup. Pair a bowl of this tasty soup with hot crusty bread and you'll have a wonderful and warming meal.
The nutrient-dense vegetables and beans help you obtain a variety of nutrients and many health-promoting compounds in one bowl.  In fact, some research suggests that nutrient-dense soups such as these can help keep us healthy.
You can substitute other winter squash for the butternut. Acorn, kabocha, or pumpkin would work well. Exact proportions aren't important, so adjust the ingredients to suit the size of your vegetables and your taste.
Ingredients
1 large (or 2 small) butternut squash (about 2 lbs, should yield about 3.5 cups cooked)
2 tbsp. olive oil
1 large onion, chopped (about 1.5 cups)
2 ribs celery, chopped (about 1 cup)
2 cloves garlic, crushed or chopped
3-4 cups vegetable or chicken broth
4 cups cooked white beans* (or two 19-oz cans, rinsed and drained)
2 cups dark leafy greens, chopped (spinach, Swiss chard, or kale)
A generous amount of pepper, and salt (to taste)
Additional seasoning (optional) – thyme and sage
*white kidney beans (cannellini beans), navy or Great Northern beans will all work
Directions
1.  Cook squash (you have a few options here, depending on how much time you have – see how to cut and cook squash).  If you have time, roasting the squash deepens the flavour, but any method will work! Once cooked and cooled, scoop the squash out of the skin and remove the seeds. Cut the squash into rough 1-inch chunks and mash 1/3 of the squash.
2.  In a large pot, heat olive oil. Add onion, celery, and garlic and cook for a few minutes.  Stir in cooked squash and 3 cups of broth.
3. Mash about 1/3 of the white beans with a fork or masher, and add all beans to the soup.  Add extra broth (or water) depending on whether you prefer a thinner or thicker soup. Simmer for about 10 minutes.
4. If you're using kale, chop finely; more tender greens like spinach or chard can be roughly cut.  Add greens to your soup and simmer until greens are wilted (about 5 to 10 minutes).
5. Taste and season with pepper or salt as needed.  Serve hot.
Makes about 10 cups.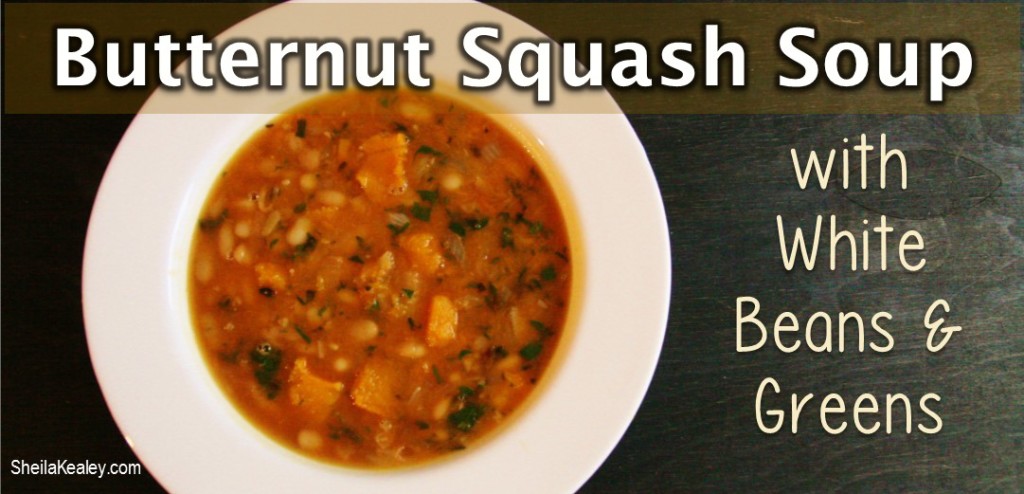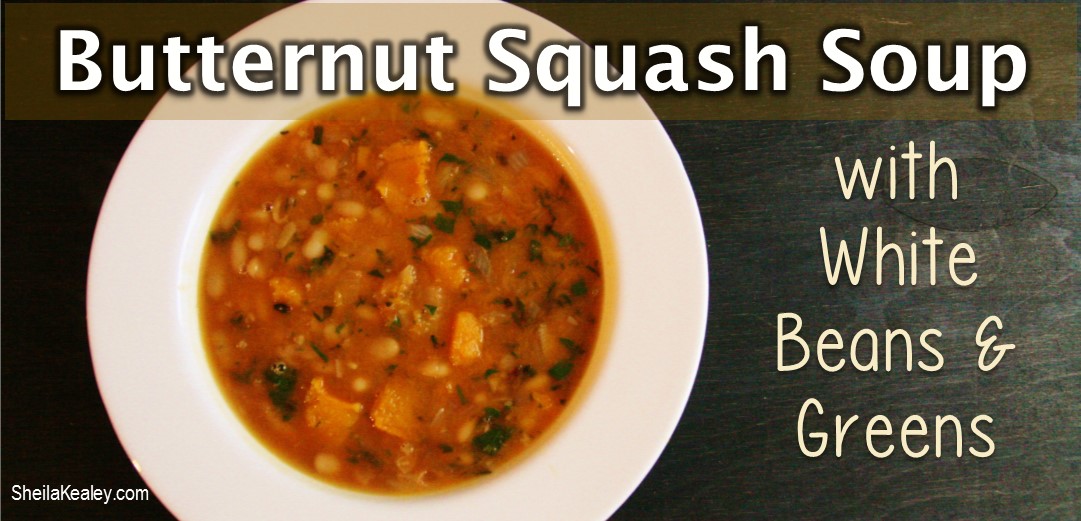 Nutrition Notes
The deep-orange colour of butternut squash is a sign of protective carotenoids (mainly beta-carotene), which can act as an antioxidant, inhibit cancer cell growth, and improve immune response. A number of studies suggest that diets rich in carotenoid-containing foods can help discourage the development and progression of several types of cancer.
Onions are rich in protective phytochemicals. The sulfur compounds — which give onions their pungent taste and smell — help lower blood cholesterol and protect arteries.  Onions are one of the richest dietary sources of flavonoids, especially quercetin, which is linked to reduced muscle damage after exercise, and reduced chronic inflammation that can trigger heart disease and some cancers.
White beans are a good source of carbohydrates and protein. In addition, beans are rich in iron, phosphorous, magnesium, manganese, potassium, copper, calcium, zinc.  The fiber and resistant starch in beans are health promoting, and help keep blood sugar levels stable.  Like other beans, white beans are also rich in B vitamins, particularly folic acid, which is being studied extensively for its disease-fighting properties.
Dark leafy greens are nutrition powerhouses rich in vitamins A and C, dietary nitrates, folic acid, fiber, magnesium, and carotenoids.
Nutrition per cup
160 calories
7 g protein
28 g carbohydrates
3 g fat (<1 g sat),
0 mg cholesterol
9 g fiber
695 mg sodium
575 mg potassium
Check out my cooking tips for this recipe:
More About Soups, and More Soup Recipes:
More Healthy Eating Articles . . .
Summary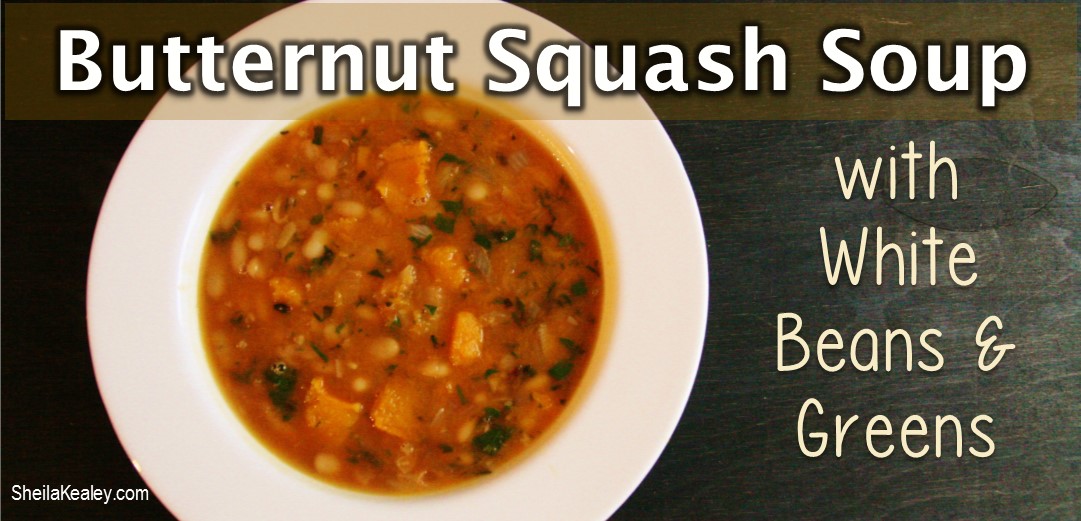 Recipe Name
Butternut Squash Soup with White Beans and Greens
Published On
Preparation Time
Cook Time
Total Time
Average Rating





Based on 2 Review(s)
Share This: