Pumpkin pie is a delicious symbol of harvest times, but it's just too good to save for special occasions. Here is a spin-off recipe with a twist or two: it's pretty good and the superior nutrition means there's no need to save it for a special holiday dessert. I've lightened up some heavy traditional pumpkin pie ingredients to make it more nutritious without losing any of the flavour.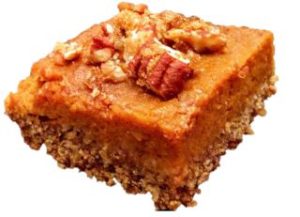 For the custard filling, evaporated milk (milk with about half of the water removed) adds richness and is an excellent stand-in for cream, providing 2.5 times more protein, 4 times more calcium, and less fat.  I've cut down on the sugar a bit, but the filling is still rich and satisfying.
The crust features oats and nuts (instead of refined flour and shortening/butter). These two nutrition all-stars are also quite flavourful and combine really well with the pumpkin filling. If you don't have pecans, walnuts would also be great.
I've baked it in a format that allows you to cut into it bars or squares, which are more versatile (but unfortunately the custard filling doesn't make it a portable workout snack . . it's great for recovery though!).
Ingredients
Pecan Oat Crust
2 cups oats
1 cup pecans
1/4 cup brown sugar
1/8 tsp. salt
1/2 cup whole wheat flour
2 Tbsp. butter or margarine
1 egg
Pumpkin Custard Filling
1/2 cup brown sugar
2 cups pumpkin puree*
1.5 cups evaporated milk (1 can – either non fat or 2%)
1 tbsp. cornstarch
2 eggs
5 tsp. ground cinnamon
1 tsp. ground ginger
½ tsp. salt
* if you used a big can of pumpkin (29 oz; 796 mL) you should have just enough pumpkin left to make my Pumpkin Spice Bread!
Topping
1/2 cup pecans halves, roughly chopped
1/4 cup brown sugar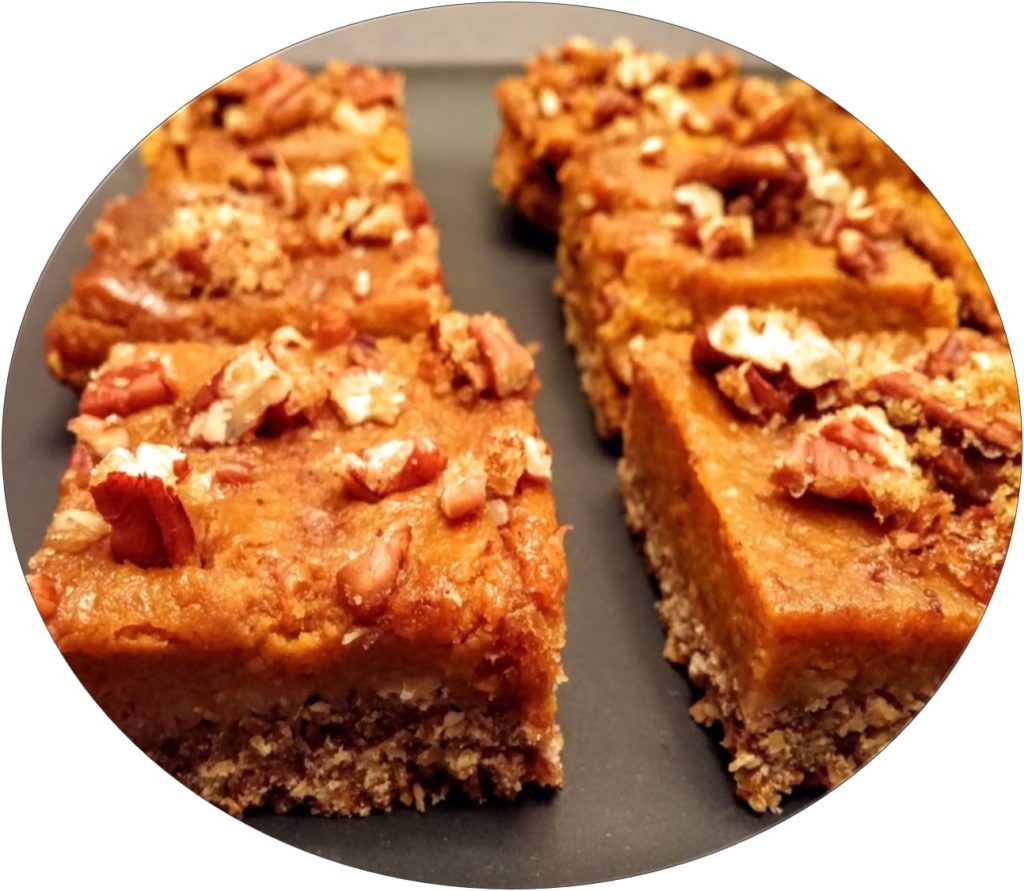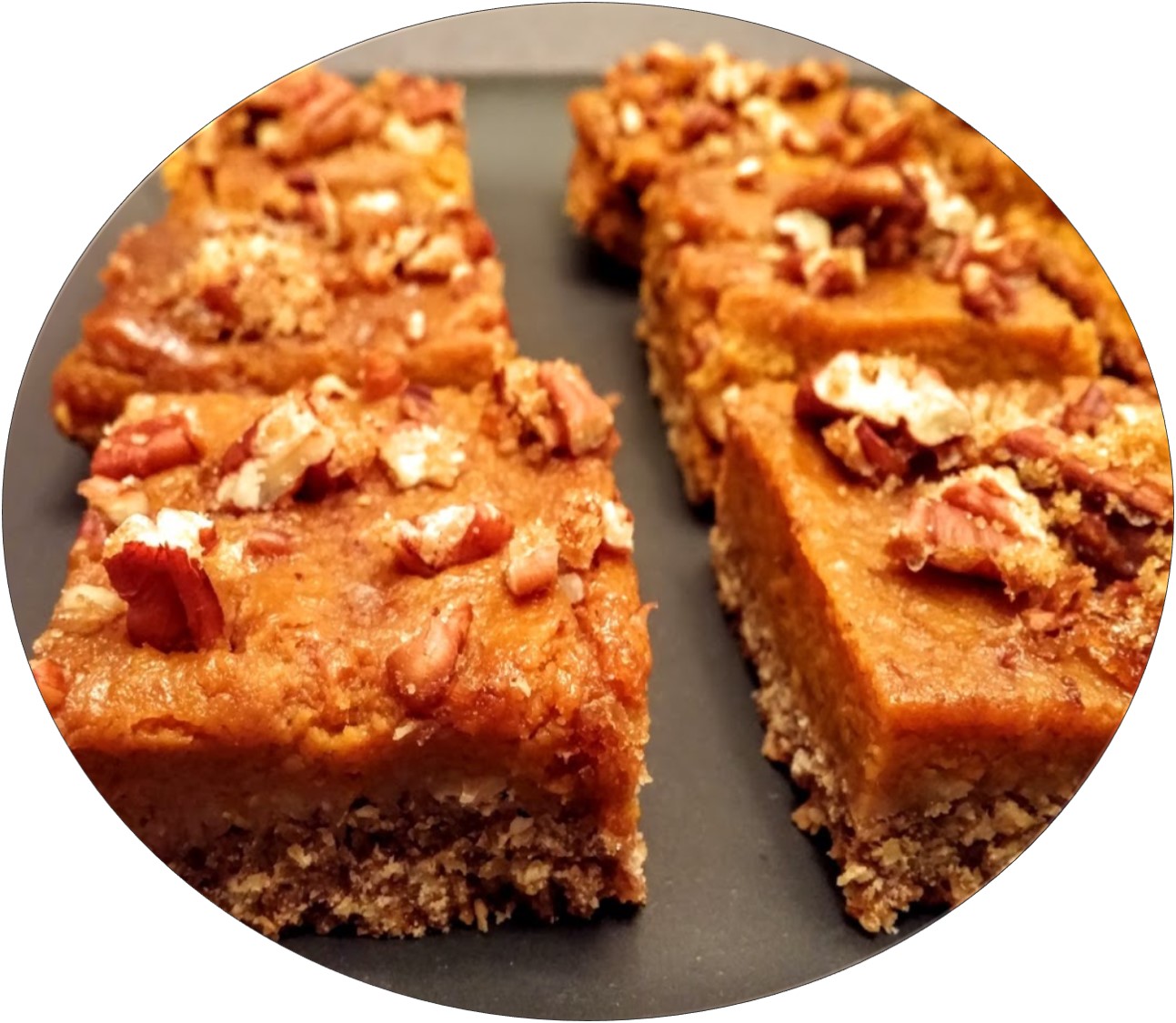 Directions
Make the Crust
Preheat oven to 350 deg F. Place the oats, pecans, brown sugar, and salt, and flour in food processor and process. Add the butter and egg and process until well mixed.
Press mixture into a 9 x 13 dish that has been lined with foil or parchment paper.  Use your hands and fingers to spread the dough and press it evenly all over the inside of the pan (it helps if you wet your fingers with water).
Bake for about 10 minutes. Remove from oven and cool on a wire rack.
Pumpkin Filling and Topping
Combine brown sugar, pumpkin, evaporated milk, cornstarch, eggs, spices, and salt in large mixer bowl or food processor (I quickly just wipe out the food processor from the crust processing to save some cleanup).
Process for about 1 to 2 minutes.
Combine chopped pecans and brown sugar (for topping). Set aside.
Pour filling into cooled crust. After about 20 minutes, remove the bars from the oven and top with pecan/brown sugar mixture. Return to oven and bake for about 20-25 more minutes, or until a toothpick or knife inserted into the filling comes out clean.
Cool on wire rack. Cut into bars (I cut the rectangle into 2 and remove each half to cut into bars on a cutting board).
Yield: 24 bars

Using Fresh Pumpkin
Canned pumpkin works well in this recipe, but you may want to use fresh pumpkin when they are in season. It's generally not a good idea to use large pumpkins for cooking, since they don't have as much flesh and it tends to be more watery, stringy, and have less flavour.  Small pumpkins (about 10-12 inches in diameter) are best for cooking.
Motivated to cook your own? Check my tips for How to Cut and Cook Squash.
Nutrition Notes
PECANS are rich in healthy unsaturated fats associated with favorable lipid profiles.  Like most nuts they also contain important vitamins (notably vitamin E) and minerals, as well as fiber.  And these nutrients may benefit health, as eating nuts can lower cardiovascular disease risk, according to a recent meta-analysis.   In this analysis, researchers looked at 61 studies that examined the effect of 

tree

nuts on blood lipids

(tree nuts include walnuts, pistachios, macadamia

nuts

, pecans, cashews, almonds, hazelnuts, and Brazil

nuts

).  They found that tree nut consumption was linked to blood markers associated with lower heart disease risk (lower total cholesterol, triglycerides, LDL cholesterol, and ApoB). The greatest effect was linked with consuming 60 grams of nuts or more daily (60 g nuts is equivalent to about 40 pecan halves).
OATS are well-know for their cholesterol lowering properties: a recent systematic review and meta-analysis shows that beyond reducing LDL ("lousy") cholesterol, oats also positively influence non-HDL cholesterol and apolipoprotein B. Oats also contain antioxidant compounds called avenanthramides that help decrease chronic inflammation that can lead to disease.
The deep-orange colour of PUMPKIN is a sign of protective carotenoids (mainly beta-carotene), which can act as an antioxidant, inhibit cancer cell growth, and improve immune response. A number of studies suggest that diets rich in carotenoid-containing foods can help discourage the development and progression of several types of cancer. Pumpkin is also an excellent source of vitamin A and potassium, and a good source of vitamin C, and fiber.
Nutrition per Bar
150 calories
4 g protein
23 g carbohydrates
7 g fat (1 g sat)
25 mg cholesterol
2 g fiber
160 mg sodium
170 mg potassium
Vitamin A 23% DV
Vitamin C 2% DV
Calcium: 6% DV
Magnesium:  4% DV
Iron: 5% DV
More Recipes . . . 
Cakes Made Healthier

Fuel Your Workout
Energy Bars
Smoothies & Shakes
Read About Sports Nutrition . . .
Summary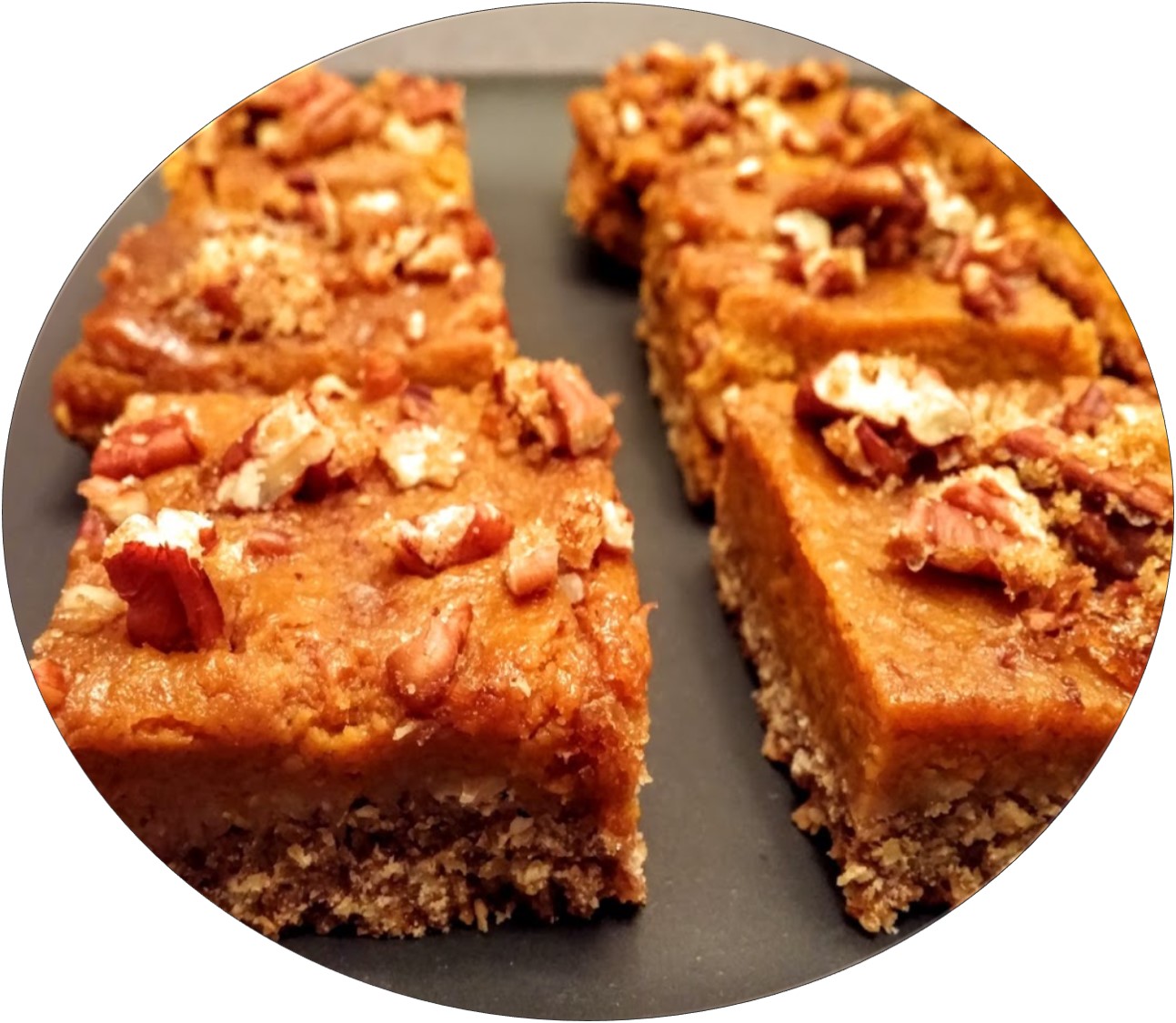 Recipe Name
Pumpkin bars with a Pecan Oat Crust
Published On
Preparation Time
Cook Time
Total Time
Average Rating





Based on 1 Review(s)
Share This: