I love pecans and chocolate. They are wonderful on their own, and pair together beautifully. In this light dessert they add intense and decadent flavours without overwhelming.  If you've ever indulged in too much pecan pie (or pecan-chocolate pie) and felt full for hours later (yes I'm speaking from experience!), you'll welcome this healthier dessert.
This pecan crust is easy to make and more flavourful than traditional pie crusts, and the ingredients provide important nutrients: pecans lend a buttery taster with healthy unsaturated fats,  and the oats provide a nice texture while providing cholesterol-lowering fiber.  In contrast,  traditional pie crusts contain unhealthy fats, refined flour, and offer few important nutrients. . . not to mention that they can be tricky to prepare!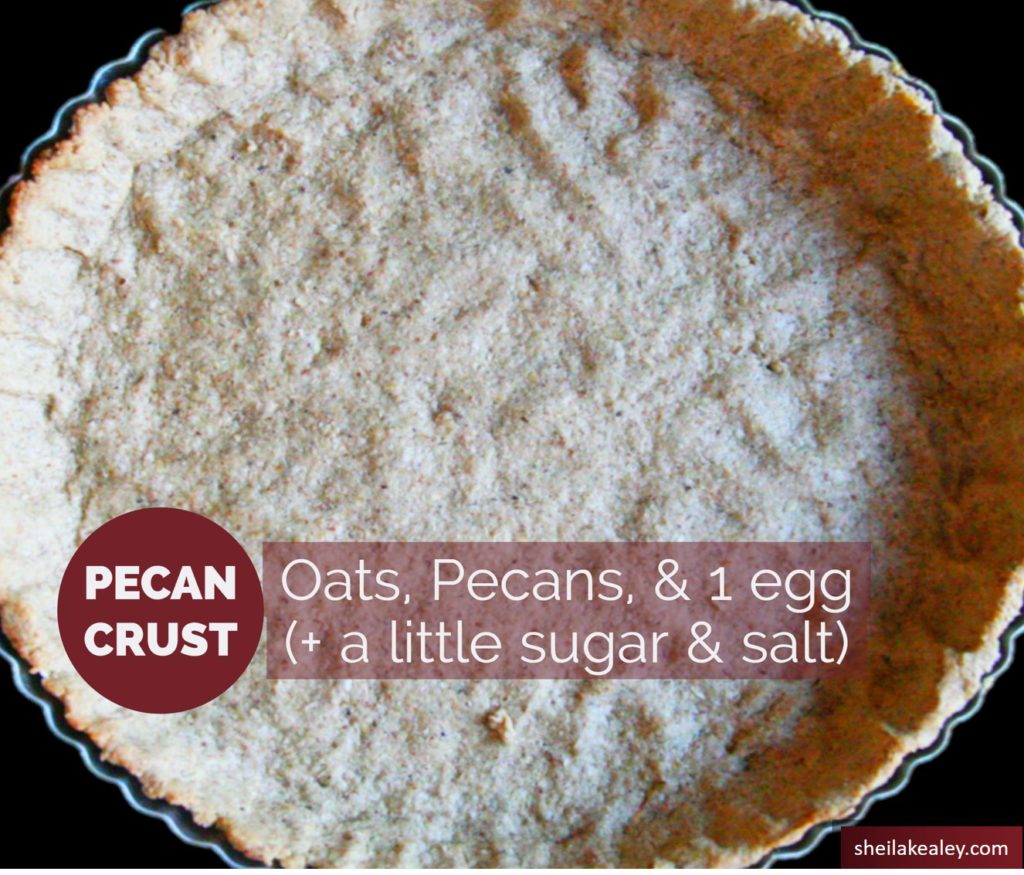 The filling in this pie is protein-rich Greek yogurt, that you can sweeten a little or a lot depending on your preferences. I thicken it up with gelatin, which may have the added bonus for some with nagging tendon injuries, as preliminary research suggests gelatin may help tendon repair by promoting collagen production.
Ingredients
Pecan Crust
1 1/3 cup oats
1 cup pecans halves
2 tbsp. sugar
1/8 tsp. salt
1 egg
Yogurt Filling
1 carton (500 g/about 2 cups) Greek Yogurt (I used nonfat vanilla)
3 tbsp. cold water
1 package unflavored gelatin (2.5 tsp.)
Chocolate-Pecan Topping
About 1/2 cup pecan halves (for garnish)
1/2 cup semi-sweet chocolate chips or chopped dark chocolate
2 tbsp. milk
Directions
Pecan Crust
Preheat oven to 350 deg F. Place the oats, pecans, sugar, and salt, in food processor and process. Add the egg and process until well mixed.
Press mixture into a 9- or 10-inch tart dish lightly greased with butter (consider lining bottom with circle of parchment paper – sometimes the crust sticks without it). Use your fingers to spread the dough and press it evenly all over the inside of the tart pan (it helps if you wet your fingers with water).  Poke the crust in a few places with a fork.
Bake for 10-15 minutes (until lightly browned) and cool on a wire rack.
Yogurt Filling and Chocolate-Pecan Topping

Put cold water in a 2-cup microwavable measuring cup or medium-sized glass bowl. Sprinkle with gelatin; stir and let stand for 2 minutes (gelatin will expand and solidify).
Microwave on High for 30 seconds (gelatin will become liquid).
Add gelatin mixture to yogurt, stir or whisk well, pour into baked crust.
Combine chocolate and milk in microwave safe bowl or cup. Microwave until chocolate is barely melted – about 15-25 seconds.  Remove from microwave and stir vigorously. With a spoon "paint" the top of your yogurt filling with chocolate (if chocolate mixture is too thick add a little milk (just a few drops – a little goes a long way). Garnish with pecans and put tart in refrigerator for 1-2 hours to set.
Preparation Tips & Variations
Don't have a tart pan? Neither did I (until recently – I"m pretty happy with the purchase, and delighted with the fluted edges and removable bottom!)  You can also make this in a glass pie plate.
Use another nut instead of pecans.  I've tried walnuts and results were great. I imagine cashews would work as well.
If you want something more decadent, use a higher fat yogurt and add a little maple syrup or other sweetener to it before adding the gelatin (this will be higher in calories and fat, but will still be much healthier than most tarts and pies).
Have an abundance of fresh fruit? Turn this into a fabulous fruit tart – you'll find the recipe here.
Nutrition Notes
PECANS are rich in healthy unsaturated fats associated with favorable lipid profiles.  Like most nuts they also contain important vitamins (notably vitamin E) and minerals, as well as fiber.  And these nutrients may benefit health, as eating nuts can lower cardiovascular disease risk, according to a recent meta-analysis.   In this analysis, researchers looked at 61 studies that examined the effect of

tree

nuts on blood lipids

(tree nuts include walnuts, pistachios, macadamia

nuts

, pecans, cashews, almonds, hazelnuts, and Brazil

nuts

).  They found that tree nut consumption was linked to blood markers associated with lower heart disease risk (lower total cholesterol, triglycerides, LDL cholesterol, and ApoB). The greatest effect was linked with consuming 60 grams of nuts or more daily (60 g nuts is equivalent to about 40 pecan halves).
GREEK YOGURT is exceptionally rich in protein and a good source of calcium.  High yogurt consumption (> 7 servings/week) is

linked to lower weight

(especially in people who eat more fruit), and

lower risk of diabetes

.
OATS are well-know for their cholesterol lowering properties, and recent research shows that they contain antioxidant compounds called 

avenanthramides

 that help decrease chronic inflammation that can lead to disease.
DARK CHOCOLATE is rich in flavanols that have potential disease-fighting properties.
Nutrition Per Serving
1 serving = 1/8 tart
330 calories
10 g protein
31 g carbohydrate
20 g fat
26 mg cholesterol
3 g fiber
72 mg sodium
150 mg potassium
More recipes with OATS
More recipes with CHOCOLATE
Share This: