While most people escaped winter and travelled to warm places over March break, I went to find more snow and high level cross country ski racing! This year's Canadian Cross Country Ski championships where held in Whitehorse, Yukon (aptly called Canada's wilderness city).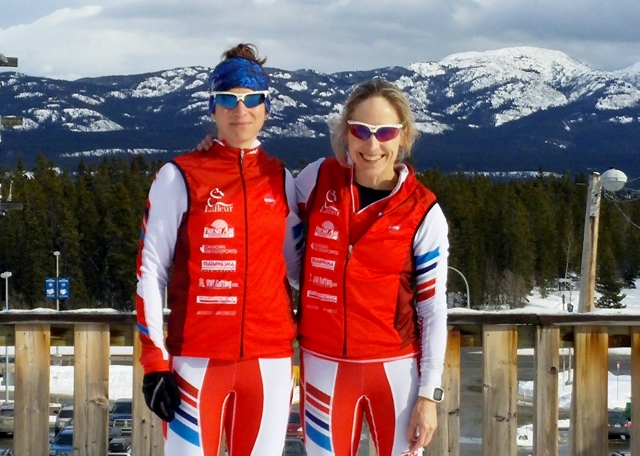 The Whitehorse Ski Community
The Whitehorse Cross-Country Ski Club is impressive, and a good example of how sport and recreation can have a positive impact on a community. The central and convenient location certainly has something to do with it – it's easy for many to take a bus or walk to the ski club. And although difficult to isolate when traveling as an athlete, the cross-country ski culture is strong in Whitehorse!
Maybe that's because cross country skiers represent a decent chunk of the Whitehorse community (about 1/20 residents are members of the club).  At about 1,300 members, the Whitehorse club membership is one of the largest in the country (a similar size as the Ottawa/Gatineau Nakkertok Nordic ski club).   A disproportionate number of our nation's top skiers come from the small city of Whitehorse, so this club is doing many things right!
The race courses were pretty spectacular, with impeccable grooming and in great shape thanks to many Whitehorse volunteer hours of shoveling snow (Whitehorse typically doesn't get that much snow, but it does stick around because of the cold .  .  this was a low-snow year, which added to the challenge).  With over 470 skiers, the event was the largest ever hosted by the Whitehorse club.
You could really see the entire Whitehorse community getting behind the effort, from dishing out a variety of delicious soups from local restaurants (let me digress here because I love soups . . . there were 2 or 3 to choose from and the choice was hard they all looked so good!) to controlling traffic on the race course. On some race days school buses dropped off children to watch the races and be part of the event.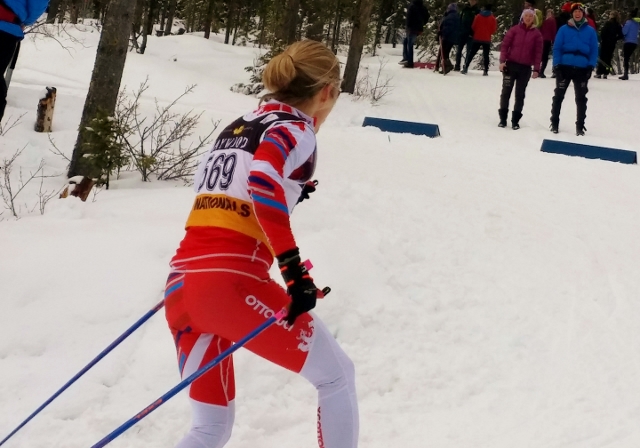 Canada's fastest skiers competed
A bonus at this year's event was that a number of our National team and Olympians competed, including Alex Harvey, Ivan Babikov, Lenny Valjas, Graeme Killick and Whitehorse's own Emily Nishikawa.  In the last few years our best athletes haven't raced at ski nationals, which isn't a good thing.  Having these athletes compete at the National Championships has a huge impact on the event and can have far-reaching effects for the athletes they are racing against and the younger athletes who see them competing.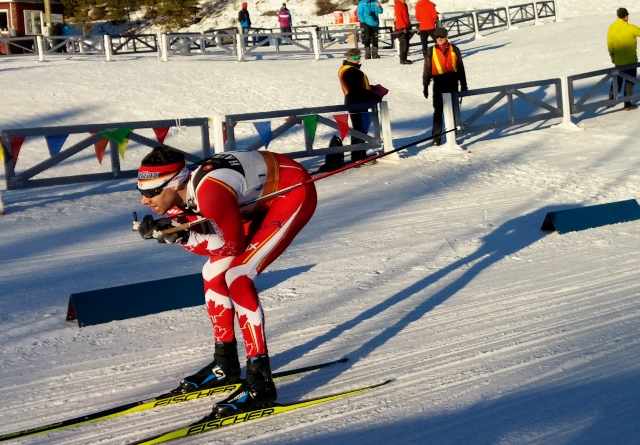 Beyond brushing shoulders with the nation's best, they see them putting on race bibs just like they do, rushing to bathroom before the start, joking with teammates, tucking down the same hills and negotiating the same tricky corners . . .it can help athletes think "I can do that too!"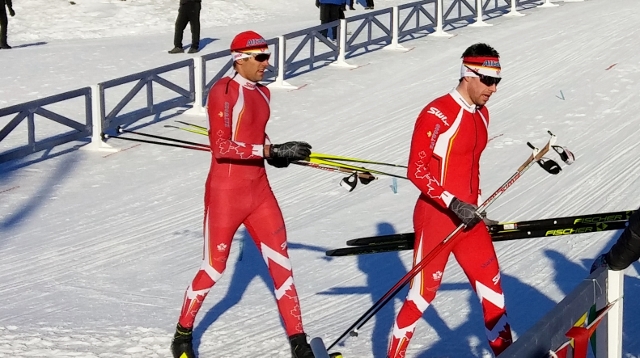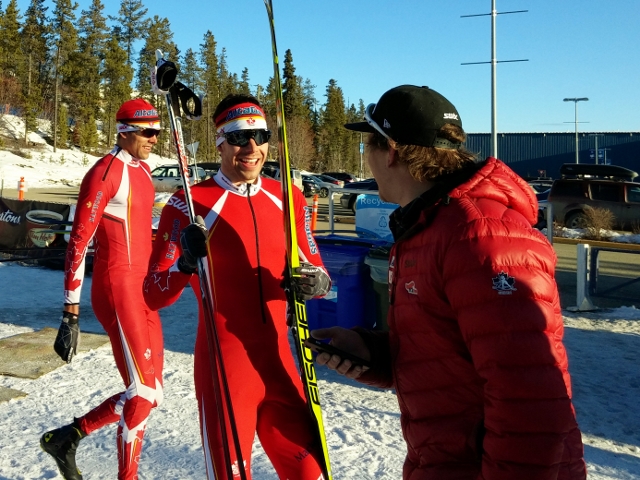 Alex Harvey treated spectators to a new phenomenon in classic style racing by going without kick wax and double poling the challenging 10 km course (and winning). Alex and Ivan did the race announcing for the sprint event for the younger athletes – their insight was appreciated by many!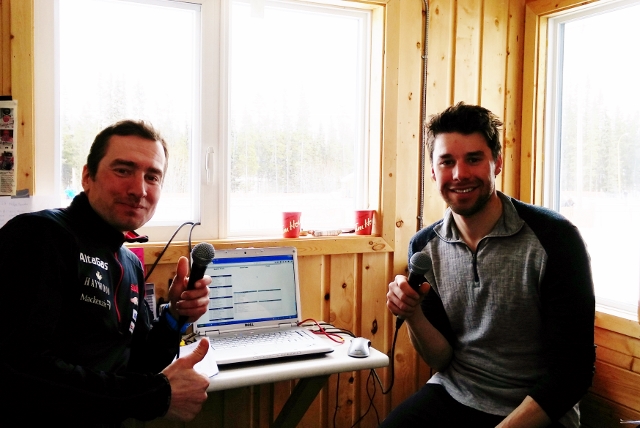 My racing
I raced in the open women's category, and our events often started mid-day – which made for a relaxing morning. But this race start meant the snow moisture content was changing and the track transitioning from hard to soft – which added to the challenge of selecting skis and wax for the changing snow – which was also different on varying parts of the course (shade/high sun).  My club Nakkertok did an almost impossible job with continuous wax testing throughout the day to have the best skis for over 45 athletes racing at different times.
My week of racing included a team sprint, 5k individual start classic, 10k individual start skate, and 1.2 km sprint, and 30k mass start classic.  Overall it was a pretty good week,  highlighted by a 12th place in the final 30k classic event. This particular race was pretty grueling, as we raced over the lunch hour and the snow speed seemed to mimick the body's energy stores over the 2-hour race –  from snappy and fast for the 1st lap of the 4-lap course to slugglish molasses in the final lap!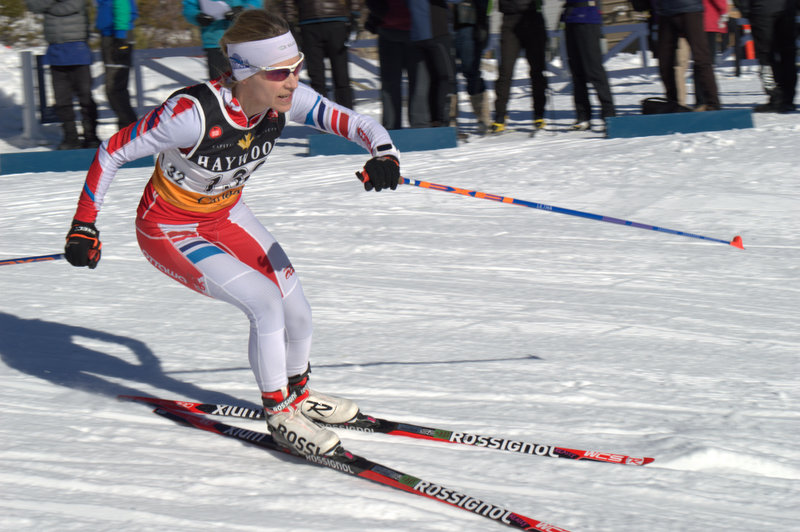 Negotiating a corner into the stadium during the skate race (thanks Peter Wiltman for the pic!)
I am forever impressed with the community efforts involved to make these events happen. The small community of Whitehorse certainly impressed, and every club had teams of coaches and parents working on all kinds of details from early morning until late night to make the experience a good one for all.  And many are taking precious vacation time to do this! Yes it's a stark contrast to the typical March Break beach holidays of many of their co-workers, but hopefully in some ways just as rewarding.
Share This: