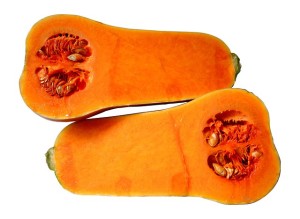 This hearty vegetarian stew is a warming and nutritious meal in a bowl.  Cumin and cinnamon spice up the winter vegetables nicely with Moroccan flavours. Although many reserve cinnamon for sweeter fare, it is wonderful in savory stews like this one.
As with most soups and stews, exact measurements aren't necessary.  You can add more or less broth to adjust the consistency.  Consider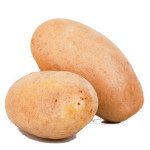 substituting other dried fruit for the raisins (chopped dried apricots work well). I kept the number of spices to a minimum to simplify the recipe, but feel free to add other spices: coriander, turmeric, and ginger would be good additions.
While this stew is delicious on its own or served with whole grain bread; you can also serve over a bed of couscous. Don't forget the garnishes – they add texture, flavour, and colour!
Ingredients
2 tbsp. extra-virgin olive oil
1 large onion, chopped (about 1.5 cups)
2 tsp. ground cumin
2 tsp. cinnamon
½ to 1 tsp. red pepper flakes
2 cups vegetable broth*
1 can (29 oz.) diced tomatoes including juices
2.5 cups peeled butternut squash, cut into 1-inch cubes
1 large carrot, cut into 1/2-inch slices (about 1 cup)
2.5 cups baby potatoes cut in halves or quarters (or chopped Yukon gold or similar potato)
4 cups cooked chickpeas (or two 19 oz cans, drained)
1/3 cup raisins
Salt and pepper to taste
*add more broth if you prefer more liquid or are serving with couscous.  Check the consistency of the stew at the end of cooking and adapt as needed.
Garnishes (place in small bowls and allow diners to add their own)
½ cup chopped fresh flat-leaf parsley
½ cup chopped nuts
½ cup raisins
Directions
Heat olive oil in a large saucepan over medium-high heat. Add onion and sauté for about 3 minutes. Add cumin, cinnamon, and red pepper flakes, and cook (stirring constantly) for 1 minute.
Add broth, diced tomatoes, squash, carrots, potatoes, chickpeas, and raisins. Bring to a boil. Reduce heat, cover, and simmer for about 30 minutes until vegetables are cooked through.
Makes about EIGHT 1.5-Cup Servings
Nutrition per Serving

(excluding garnishes)
390 calories
15 g protein
74 g carbohydrates
5 g fat (1.3 g sat)
4 mg cholesterol
18 g fiber
800 mg sodium
1240 mg potassium
Check out my cooking tips for this recipe:

More soup & stew recipes
Share This: