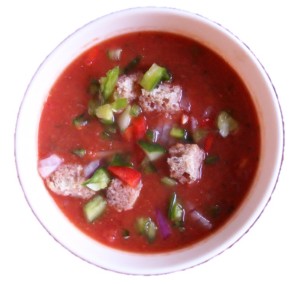 This is a cool and refreshing soup full of summer vegetables: it is just perfect for those hot days. Gazpacho originated in Spain, where its name means "soaked bread" referring to the original recipe that included stale bread. While this version omits the bread in the soup, I recommended homemade croutons for a garnish (where the crunch and texture really add to the dish).
You can make this soup more hearty (and a light meal) by adding black beans (cooked, or canned and drained).  Many versions of gazpacho soup ask you to peel and seed the vegetables. I don't think this is necessary – it takes time, removes important nutrients, and doesn't really improve flavour or texture.
Gazpacho is good for you (backed by science!)

A recent study found that gazpacho consumption was associated with lower blood pressure and reduced hypertension in people at high risk for heart disease. Researchers speculate that these health benefits were "probably due to synergy among several bioactive compounds present in the vegetable ingredients used to make the recipe."
Earlier research found that study volunteers who ate gazpacho twice a day for 7 days had decreased markers of oxidative stress and inflammation in their blood.
Ingredients
2 large tomatoes*
1 large cucumber, halved lengthwise*
1 large fresh pepper (green, red, yellow or orange) seeded and halved*
1 medium onion (sweet onion or red onion work best), peeled, halved*
3 cups tomato juice*
* = divided use – you'll puree about half of the above ingredients in a blender
1/3 cup red wine vinegar
1 tbsp. olive oil
¼ tsp. hot pepper sauce (e.g., Tabasco)
1/8 tsp. pepper, or more to taste
4 cloves garlic, finely minced
Instructions
Coarsely chop half the cucumber, half the pepper, and half of the onion (big chunks, depending on the power of your blender to puree).
In a blender, combine 1 tomato with the coarsely chopped veggies, and add 1 cup of the tomato juice. Puree at until well blended.
Pour the puree into a large serving bowl and add the remaining 2 cups tomato juice, vinegar, oil, pepper sauce, pepper, and garlic.
Chop the remaining cucumber, tomato,  peppers, and onion and add to the puree mixture.
Refrigerate, covered, to allow the soup to chill and flavours to blend (if you store the tomato juice in the fridge you don't need to refrigerate).
Best served chilled and great garnished with homemade croutons.   This looks wonderful accompanied by small bowls of garnishes to allow everyone to add their own. Here are some ideas: chopped onions, chopped peppers, chopped cucumbers, chopped chives, chopped tomatoes, or chopped fresh herbs.
Makes 6 generous 1-cup servings.
Sheila's Speedy Garlic Croutons
These are a much better and tastier option than store-bought croutons, which are generally not a healthy option. If you have time and want a more elaborate crouton, try this recipe.
Toast your favourite whole grain bread slices and let cool
While bread is toasting, peel a garlic clove and cut in half
Rub cut half of garlic garlic clove on cooled toasted bread
Slice bread into small squares
Nutrition Notes
Tomatoes and especially tomato juice are rich in lycopene, beta-carotene, and vitamin C.  They are recognized for their lycopene, a carotenoid that might help protect against some cancers and heart disease.
Garlic contains many protective compounds that are being studied for their disease-fighting effects.
Sweet peppers not only add colour, but plenty of nutrition. Red peppers are especially rich in Vitamin C, supplying twice as much Vitamin C as one medium orange.
Onions contain sulfur compounds that are thought to help cells detoxify potential carcinogens, and are a good source of the dietary flavenoid quercetin, which is associated with reduced chronic inflammation.
Nutrition per Serving
(without croutons or extra garnishes):
80 calories
2 g protein
11 g carbohydrates
3 g fat
2 g fiber
I adapted this recipe from Jane Brody's Good Food Book (WW Norton & Co, 1985).
You'll find more healthy recipes here.
Share This: